Customer cases
Jumping right in: how our expert led a data science department
Assuming interim management role for a datascience department to provide continuity during a maternity leave period
Data Science
Expertise
Finance & Insurance
01. THE QUESTION
Having data is silver, using it in a clever way is golden. Our customer understood this very well. As an insurance company, they have a mountain of data at their disposal. From a client's personal information (gender, age, address…) to the type of car insurance they have and whether there are any claims for damages to their name.
The company wanted to distil more insights out of their data so they could offer customised insurance products to their clients. The company gathered a group of data scientists, headed by an expert team leader. However, in the early days of the team, the team leader went on maternity leave. The customer asked Addestino to send a temporary expert team leader who could provide continuity for the data science department.
02. THE PROCESS
Getting useful output from data can be quite challenging. First of all, data is often scattered over multiple systems. Second, the possibilities with data are endless—meaning you have to understand the insurance business very well to pick the right ones. The company used machine learning to get more out of the data and predict multiple situations. In other words: the new team leader needed to be someone who could jump right in and handle the complexities of data science.
We have multiple experts who are ready to join a client's team temporarily at any time. So finding the right fit for the customer went smoothly. Within two days, our expert went to work to lead the insurance company's data science team toward the finish line. Within a week, he and his predecessor had gone over all the information, to do's and expectations. Our expert was ready for take-over.
In those first days, our expert mapped out all the information in our value/risk matrix. We first focused on the high value/low risk, looking for action points we could implement easily with quick results. Then we set up a de-risking trajectory for the high value/high risk projects. The low value group was last on the list and would only be tackled once the high values projects were set up.
03. THE RESULT
By sending the right expert as a temporary team lead for our customers data science project, we were able to help the insurance company get quick results. Our process of mapping out all the information and tackling action points depending on their value and risk, allowed us to quickly get to the essence and focus on the right things.
Want to know more about this case?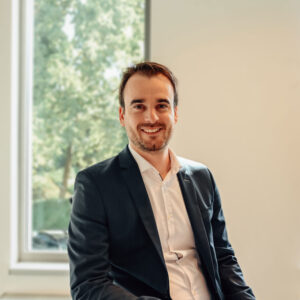 Frederik Van Eeghem
Principal
Contact
We're proud to work for