Customer cases
Network as a service
Outsourcing all LAN, WAN, Security assets and services to boost best-effort service levels to formal SLAs
Networking
Make / Buy
Distribution
01. THE QUESTION
Our customer is a Belgium-based automobile distribution company, with their own IT department and network to run their data—lots of it. They need connections to their main factory and to the various dealers; in the garages they need Wi-Fi connections for their customers; in their own offices they need LAN connections; and they have quite a bit of calculation and invoicing work. In short, our customer was dealing with a rather complex landscape made up of different generations of technologies.
In this situation of heterogeneous technology, extensive support teams and high costs, our customer found it increasingly difficult to adopt new innovations and new technologies, such as software-defined networking. Eventually, our customer's CIO decided to outsource all things networking, so that there would be fewer costs and it would become easier for the company to reduce or scale up. In other words: network as a service.
The challenge: everyone within our customer's company had lost the overview of the different teams, companies and locations. They could no longer describe what they had, let alone draft a plan of what they wanted to outsource, what SLA's they wanted and what kind of performance guarantees they would demand from suppliers. That's when they asked Addestino to develop a map of the world: a complete overview of their infrastructure. Quite the task, but we were up to it.
02. THE PROCESS
Locations, routers, Wi-Fi access points, VPN's for teleworking—we mapped it all. We also included all the processes involved, like how to connect a new garage to the network. We included costs too, both CAPEX and OPEX. In the end, we provided our customer with an overview of the total cost of ownership of their own network.
Our map of the world showed all of the company's technologies, processes and costs in just one (big) picture. That's how we and our customer were able to decide exactly what to outsource and what to keep in-house, and what the requirements for the suppliers would be in terms of performance and service levels.
The next question: who are the potential suppliers for network as a service, and which technologies do they have on hand? First, we drafted an RFI aiming to explore the market. Next, we sent out an RFP to base our vendor selection on. We ended up with an excellent overview of the supplier landscape.
03. THE RESULT
The current outcome: for the first time ever, our customer has a clear overview of their infrastructure, including the costs. They now also have a sense of how to improve their assets in the future, in what way and via which suppliers.
The expected outcome: the ability to implement new technologies much faster than before, and with much higher service levels. And in the longer term: reduced costs. Advantages only, thanks to Addestino. That's why our customers trusts us to steer this 10M€-15M€ project.
Want to know more about this case?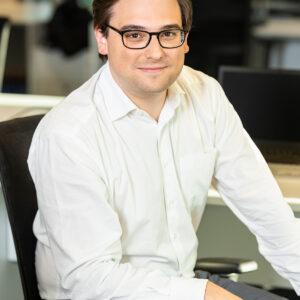 Michiel Vermeersch
Partner
Contact
We're proud to work for