Customer cases
Shaping up for CSRD compliance
How Addestino defined a pragmatic roadmap for transparent ESG reporting
Data Science
Strategy
Manufacturing
Question
As the EU's newly drafted CSRD legislation is taking shape, businesses from Barcelona to Berlin are scrambling to prepare for the upcoming changes. Starting in 2024, all major EU-listed corporations will have to disclose their ESG performance. In this effort to compel businesses to be completely transparent about their environmental, social and human rights impact, Brussels is directing companies to report on their efforts in line with the double materiality principle and the recently proposed European Sustainability Reporting Standards (ESRS).
With certain aspects of the legislation still up in the air, the resulting uncertainties pose challenges that are reminiscent of the introduction of the GDPR privacy law in 2016. Furthermore, management will be held personally accountable for the reporting, much like their existing obligations regarding accounting statements. Consequently, organisations are grappling with the task of devising an accurate plan of action.
In their quest for assistance with this urgent matter, a large Belgium-based player in the manufacturing industry approached us. Their leadership team was looking for answers on how to transition swiftly and establish a practical, resilient ESG reporting framework encompassing tools, processes and governance. Our consultants promptly set to work.
Process
A complex challenge with tight deadlines like this one is our bread and butter at Addestino. With no existing benchmark framework or 'follow the leader' strategy to serve as a starting point, undertaking a comprehensive bottom-up analysis typically implies spending valuable time and resources to most organisations. That's why our multidisciplinary team stepped in, equipped with their usual tool kit of expertise and a flexible mindset for agile project management.
Prior to the assignment, the company had already identified a set of ESG reporting flows across its global business units. Our consultants began by meticulously mapping out each of the existing reporting flows, gaining a thorough understanding of the current state. It quickly emerged that there were substantial variations in maturity amongst the flows on different parameters, such as completeness, controllability, automation and consistency.
For each reporting flow, we examined and evaluated various scenarios, taking into account both technological capabilities and business constraints. This resulted in individual short and medium-term roadmaps. Subsequently, we integrated these into a comprehensive ESG implementation roadmap, guaranteeing auditable ESG reporting flows.
Insights
The project culminated in the construction of new blueprints that could serve as versatile, agnostic reporting flows embodying best practices for control and auditing. At the same time, they cover a wide range of automation levels, from manual spreadsheets to fully automated data pipelines. These five model blueprints serve a dual purpose. Firstly, they can be used as potential ideal outcomes or benchmarks while examining existing data flows. Secondly, they act as templates for future reporting requirements, effectively filling gaps in existing reporting capabilities.
Throughout the entire project, we worked in close collaboration with all stakeholders. This way, we ensured that the outcomes garnered company-wide support. As the project advanced, flow owners gradually transitioned from being pure input providers to co-designers to plan owners.
Results
Our project methodology allows us to establish stakeholder buy-in and deliver standardised blueprints in a short time frame. In a mere 11 weeks, we moved from initial contact to delivering a pragmatic roadmap. This included clear milestones to install the necessary governance and enhance the client's ESG reporting processes and platform capabilities. Teams across all departments now have a comprehensive understanding of end-to-end flows, while they are equipped with actionable improvement plans. In addition, our future-proof ESG reporting blueprints leave them better prepared for the future.
Creating transparent and easy-to-edit ESG reporting is easier said than done – and that's exactly where our methodologies prove their value.
Want to know more about this case?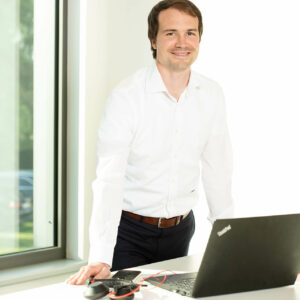 Maarten Heyse
Partner
Contact
We're proud to work for