Customer cases
New and improved: how we helped create a better contacting system for a wholesaler
Redesigning distributed telecommunications and contact center flows for a retailer resulting in 90% reduction of missed calls
Applications
Make / Buy
Retail & Wholesale
01. THE QUESTION
Our customer is a wholesaler of building equipment. The company has grown quickly over the years, opening multiple stores and acquiring other businesses. Having many different establishments means our customer had multiple points of contact for their clients. E-mail, telephone or in-store help: their clients had options if they had questions. But the way clients' questions were handled depended on which channel they used or which store they contacted.
Our customer's CEO and CIO asked Addestino to figure out the best way to organise the points of contact with clients and to help with selecting the right technology, as well as the best supplier. Lastly, our customer asked if we could also implement this new and improved contacting system.
02. THE PROCESS
We first spent some time in one of our customer's stores. Our consultant talked to the employees, observed how often the phone rang, how long it took for someone to pick up and whether or not that person could help the client on the other end of the line.
We then analysed our customer's clients and use cases. That's when we realised this company has a lot of different target groups. On the one hand, they have a group of self-employed installers who place last-minute small orders for pick-up the same or next day. On the other hand, they have larger project-driven companies placing big orders or wanting a framework contract to be put in place with our customer. In between those two, there are architects looking for help with their design options.
Once we had mapped these different buyer profiles and their needs and wishes, we decided on the ideal technologies. Combining modern telephone applications, Teams and a contact centre was the right way to go for our customer. With this contact centre application, our customer can cater to any client's needs. For example, when dialling a number, the client now chooses a department and is immediately connected to an available Level-3 expert in, say, technical design. This application also shows our customer who's calling, allowing operators to decide who this person will be connected to. A large client might want to talk to the CEO straight away, for example.
03. THE SOLUTION
During this two-year project, we worked out multiple contact scenarios and helped to redesign the team structure that would best support customers. Now, when a client calls one of our customer's stores, their phone call will never again go unanswered. If all the clerks are too busy to pick up, the client will automatically be transferred to another branch in the area. The client will also be immediately helped by someone who has the knowledge to answer their question, ultimately offering better customer service to all clients. The outcome so far:
Reduced recurring telephony fees with 55%
Transitioned 60+ branches with 10+ system to single UC system
Freed up 2,5 FTE in receptionist profiles
Harmonised telephony flows to uniform standard
Want to know more about this case?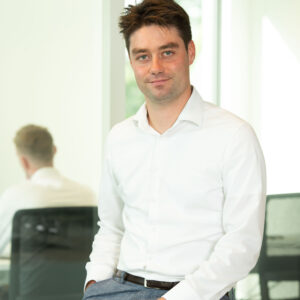 Vincent Slembrouck
Principal
Contact
We're proud to work for