Customer cases
Setting-up Digital Twins for a large ICT player to reduce internal bottlenecks and improve customer satisfaction
Creating Digital Twins for an ICT product & service portfolio, to visualize and reduce performance and leadtime bottlenecks
Data Science
Transformation
Telecom & ICT
01. THE QUESTION
Our customer is active in the ICT sector and caters to a B2B audience. They sell a wide range of products, from security and infrastructure servers to networking and Internet of Things applications to other companies. Having such an extensive portfolio also means they have a rich dataset in their Data Warehouse.
This client wanted to get more out of their data to create more value for their customers and for themselves. They wanted to know, for example, how long the process took from the moment a client showed interest in a product until the moment they paid their first invoice. Their question: could we map this process and expose the bottlenecks for their ten most important B2B products. And could we also mine the Data Warehouse for essential data and bring it all together in a dashboard to help management with forecasting and decision-making.
02. THE PROCESS
To map the processes for each of the ten on the best-seller list, we sat down with dozens of different departments responsible for one or multiple steps in the process. Together with these teams, we went over all the systems that contain data. We then checked in the Data Warehouse which data we could use and how we could turn this into clear, insightful graphs and KPI's. We didn't just offer an overview of the data in readable and understandable insights, we also created semi-automatic recommendations, like which actions to take this month.
For this project, we leaned on Business Intelligence. The first reports we produced with the BI system were so clear and valuable that our customer asked us to immediately do the same for a wide variety of their other product lines.
03. THE RESULT
We gave our customer a clear view of their processes and translated the data to usable insights and actions. The company now has an overview of all their data in dashboards that are automatically updated every month. Our customer's data governance team uses the insights from the dashboards to give business reviews, inform management of opportunities, pitfalls, etcetera, and warn the operations teams when they've discovered a bottleneck.
Want to know more about this case?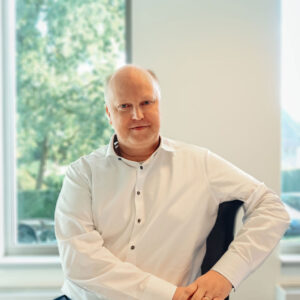 Dominique Buyse
Co-founder & managing partner
Contact
We're proud to work for