Customer cases
Addestino does it better
Reshaping a stalling 10M€+ Data Ware House transformation program, yielding first time results in less then 6 months time
Data Science
Transformation
Insurance
01. THE QUESTION
Being an insurance company, our customer has heaps of data on their clients. For legal and business reporting purposes, they store all of their data in a data warehouse. A data warehouse that's quite old, though, making it unsuitable for storing new forms of data.
That's why a few years ago, our client started a major project to build a completely new data warehouse—new technology, new processes, new forms of data—led by fellow consultants. The project had already cost them millions, but hadn't yielded the desired results yet.
Eventually, our client appointed a new Chief Data Officer. He asked us to take over the project, restructure it and deliver results. We did just that.
02. THE PROCESS
We completely transformed the project, screening all the consultants' resumes and letting about 80% go. We then re-mapped all functional requirements, set the right priorities and changed the way of programming, reporting and governance.
We did all that using an iterative approach, with all teams nicely divided into sub-teams with clear roles and responsibilities. Every two weeks, a completely new version of the product had to be delivered.
03. THE RESULT
In about four months, we had booked solid results. Another thirty days later the first piece of functionality was up and running. We achieved tangible results—working pieces of software—in a matter of weeks instead of years.
Something to be proud of, if we dare say so ourselves.
Want to know more about this case?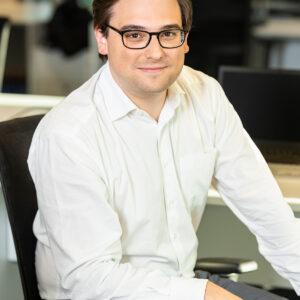 Michiel Vermeersch
Partner
Contact
We're proud to work for