Customer cases
How a business model led to an unexpected turn of events
Creating bottom-up business case for Hyper Converged Infrastructure resulting in a projected 5M€ TCO savings
Cloud
Strategy
Energy & utility
01. THE QUESTION
Our customer provides a nationally critical infrastructure, so they are obliged to store all of their data in their own personal data center. This means they're not allowed to keep their data in a cloud, despite it being a tool that offers much more flexibility.
Fortunately, a technology exists that offers virtually the same data flexibility as a cloud: hyper-converged infrastructure (HCI). So when our customer's CIO caught wind of his team absolutely wanting to buy and install a brand new data center equipped with HCI, he knocked on Addestino's door. His request: draft a business case to check if the investment was worth the budget.
02. THE PROCESS
In this situation, coming up with a business case wasn't a straightforward task. How do you objectively measure the benefits of flexibility—can you even calculate such a thing? We solved the issue by coming up with a custom model that conveniently allowed us to compare needs versus costs. Not only in terms of hardware, but also in terms of people and processes. This way, we ensured our business case was as complete as possible.
03. THE RESULT
The conclusion we drew from the business case was an unexpected one, both for us and the client—and not in a good way. The good news: a data center with HCI would entail major financial benefits. The bad news: most of these savings were about to come from the large number of people our customer would have to lay off, because they'd be made redundant by the new HCI-equipped system's automation.
The biggest problem, however, was that most of these people had other important tasks within the company too—tasks that had nothing to do with configuring HCI. This means they'd have to be laid off for only about 40% of their jobs, which obviously isn't possible. Putting it another way: because of our customer's unusual situation, the business case resulted in a non-feasible solution.
For the time being, we advised them to implement the new HCI-equipped data center on a small scale, to verify whether it even fulfilled its promise of flexibility. That way, our customer can decide at a later stage whether they want to roll out the system completely—which will involve a major transformation, since dismissing staff is always a sensitive issue.
It's not often that a solution brings more complexity than clarity. Sometimes, going from complexity to clarity isn't that easy. Even for Addestino.
Want to know more about this case?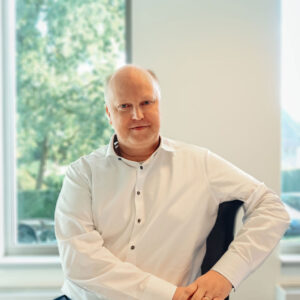 Dominique Buyse
Co-founder & managing partner
Contact
We're proud to work for