Customer cases
Broadening the 5G spectrum
Discovering new markets for an international telco operator and IT integrator
Networking
Strategy
Telecom & ICT
01. Context
As businesses venture into new markets, they will encounter multiple challenges, spanning from emerging competitive dynamics to identifying an optimal market fit. While this expansion can feel like a giant step, the right dose of expert advice and strategic guidance can transform it from a daunting leap into a well-informed decision.
That's why we were hired by an IT integrator that was looking for new markets to tap into with an expanded 5G network offering. The client featured in this case study offers wireless connectivity services (including Wi-Fi, 4G and IoT) to customers across a wide range of industries, including education, manufacturing and healthcare industries. These clients typically require reliable, secure communications for their security and operations personnel.
In addition, the current use cases for end clients tend to be complex, with extended sales cycles. Although project margins are substantial and collaboration roadmaps can span years, the potential customer base is limited with the existing wireless setup and technology. Smaller organisations remain underserved through this custom approach, despite an excellent technology fit. To expand into new, smaller markets with a potential 5G offering, a different approach would be needed for sales, solutions architecture and account management. To enter these markets successfully, our client required a more standardised product offering along with a straightforward operational and sales strategy.
To identify the most promising sectors for future profitability, our client commissioned an extensive market research study. This review aimed to compare the current utilisation and potential of competing technologies across various industries. Our mission was to find untapped potential for 5G expansion, turning a wireless gamble into a sure bet.
02. Process
The client sought an impartial third-party assessment of new markets. Our task: to validate their intuition about the potential in specific industries, and provide them with an actionable business case and strategy for entering new sectors. We deployed one of our Addestino experts to take on an embedded role at the client's. The scope for our consultant's initial four-month assignment was clear from the outset: find suitable markets for expansion and define a productised service offering, including a sales description, business plan and medium-term sales forecasting. We scheduled weekly meetings with the client to set priorities, collect feedback and monitor progress on the following key deliverables:
Market research and value proposition
We conducted market research and crafted a compelling value proposition for potential new markets. Our approach involved a combination of desk research and interviews with industry experts. The latter were aimed to gain additional feedback and a deeper understanding of challenges and opportunities in various sectors. We also sought to understand potential objections surrounding new 4G and 5G technology when compared to rival Wi-Fi technology, including perceived pricing concerns.
An in-depth examination of rival companies and their products and services, drawing insights from publicly available data and market intelligence.
Existing client contracts are designed around custom deals, tailored to each customer's specific requirements. To accommodate smaller clients more effectively, we needed to adopt a new approach. This involved establishing standardised processes for common scenarios among both current and potential future customers.
Cost analysis and pricing strategy
Cost is a crucial factor not only for internal pricing, but also in value-based pricing strategies towards end clients. We analysed current and future pricing of various competing technologies, taking into account expected future economies of scale, aimed at formulating the most effective pricing model. In addition, we explored potential partnerships and alternative sales channels for the proposed product.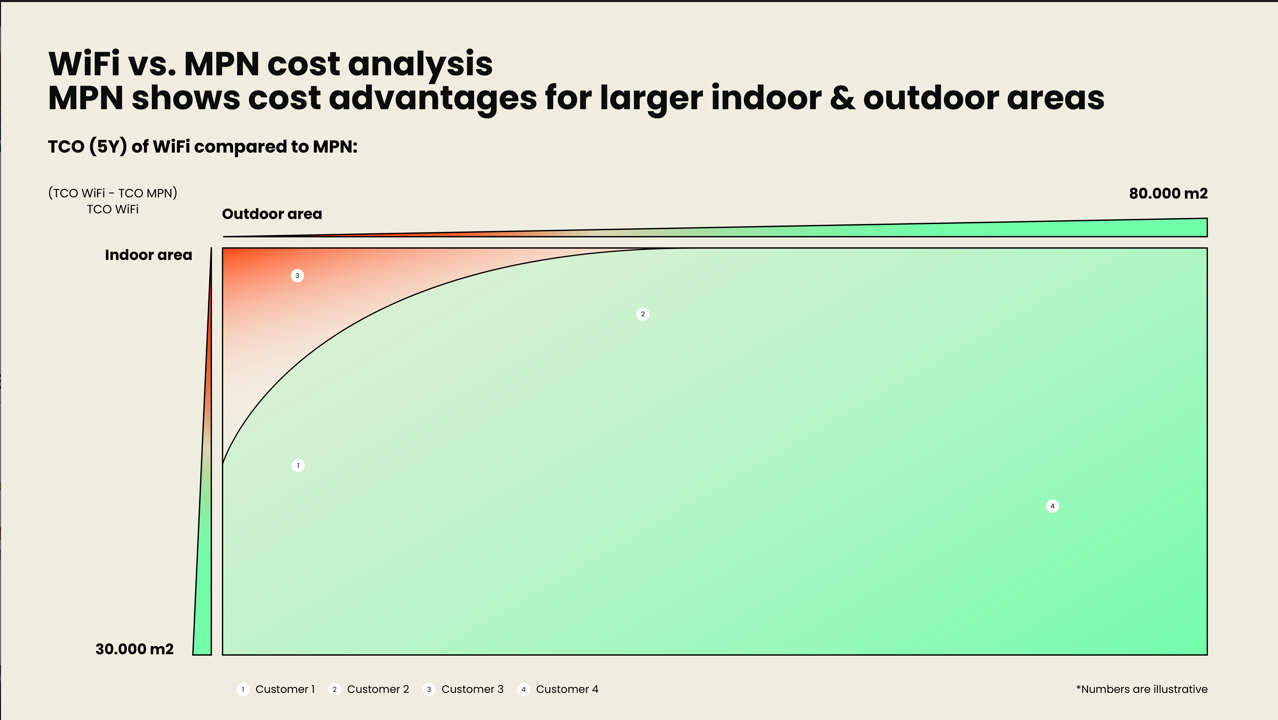 03. Insights
It quickly became evident that, in specific sectors, our client's technology proved to be more cost-effective than initially anticipated when compared to traditional Wi-Fi-based technology. Our further comparisons into signal strength and bandwidth between technologies supported these findings. By translating our desk research, interviews and subsequent analysis into ROI projections, we were able to define an actionable business plan and roadmap. This approach allowed us to mitigate the potential risks of venturing out into certain new markets. In addition, we spotted a further need for continued so-called 'customer evangelisation'. Education of potential customers across industries is still necessary. Many organisations are insufficiently aware of new possibilities that our client's technology enables, and their assumptions about associated costs are overly pessimistic. Armed with these insights, our consultant developed additional internal materials to better educate the client's sales and presales teams regarding the opportunity.
"We proved our client's hunch using research and hard metrics into expected ROI, followed by a concrete business plan and roadmap. This way, we covered the risks of venturing out into new markets as much as possible."
04. Results
By the end of our initial assignment, our client had a comprehensive overview of their primary markets for expansion. Furthermore, we introduced a fully customised product line-up for these industries. The business proposal we delivered includes a product roadmap complete with a transparent internal and external cost breakdown, an interactive pricing sheet, and initial sales targets derived from market projections. We also developed fresh sales materials, including customer-facing presentations, white papers and internal educational resources. This approach positions our client for the maximum success rate in entering new markets and leveraging untapped opportunities.
Want to know more about this case?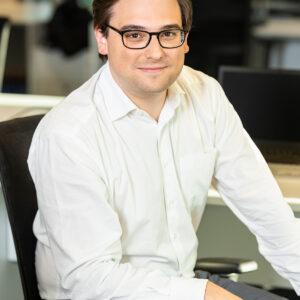 Michiel Vermeersch
Partner
Contact
We're proud to work for