Customer cases
Sometimes to wait is the smart thing
Building hybrid cloud roadmap for a 100+ application landscape, by balancing up to 30% ROI versus Schrems II & SW constraints
Cloud
Strategy
Telecom & ICT
01. THE QUESTION
For this case, the question came from a large Belgian mobile telecommunications company, well-known for their internet connections, mobile communications and television programmes. What many people don't know about, though, is the software and countless applications behind the scenes, used several times a day by millions of people. In other words: a complex landscape of data and applications.
This software has been knitted together closely over the years and is currently located in the company's own data centre. The current system is extremely robust and secure, but also incredibly expensive and about as flexible as a brick.
The company's CEO and CIO started to wonder whether there was room for improvement in terms of their storage and computing infrastructure, given today's high-speed internet and cloud systems promising to be much faster, cheaper and more flexible. That's when they reached out to Addestino and asked us to build them a hybrid cloud strategy.
02. THE PROCESS
The core of our customer's question: which of our data and applications will we migrate to the cloud? And which cloud—a Microsoft one, an Amazon one, something else? SaaS, PaaS or IaaS? And how does the migration work? A complex question with many dimensions and aspects—precisely the kind we enjoy sinking our teeth into.
We used our iterative approach, working in two-week iterations, asking ourselves different questions each time. The first iteration: if we were to only consider costs, which data and applications would we migrate first? The second iteration: if we were to only consider the data and applications that are technologically ready, which would we transfer first? And so on, until we arrived at a final model to base our decision on.
The model showed that the answer to the question—which data and applications to migrate to the cloud, when and how—depends on three factors. First, is the software mature enough for a cloud transfer? Second, where are the economies of scale and the biggest potential savings? And third, is our customer's data protected by legal regulations, such as GDPR?
03. THE RESULT
We ran our customer's data and application landscape through our custom framework using yes-no questions in order to determine what should be moved to which cloud and when. The conclusion we came to was quite surprising for everyone involved, because the answer turned out to be: not now.
Our customer was set to make so many investments and cause so much disruption during the migration that other critical and more important projects (such as 5G and fibre to the home) could be compromised.
So what we suggested was to stay away from a big migration, but to do a pilot on a new platform our customer was planning to develop anyway: a new television application. We suggested they develop the new tv application not in their data center on their own servers, but in the cloud. They could then use that pilot to learn from.
Sometimes it's better to wait and think twice before rushing into something.
Want to know more about this case?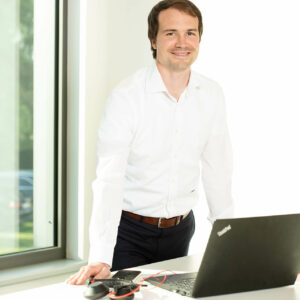 Maarten Heyse
Partner
Contact
We're proud to work for