Customer cases
We taught a customer how to walk
Speeding up delivery of an IAM transformation program through a phased roll-out, by trading-off technology versus process changes
Security
Transformation
HR Services
01. INTRODUCTION
In Belgium, the relationship between your gross salary and your net salary is so complex that separate organisations are needed to sort things out. Our customer is one of those organisations. Their main task: calculating paychecks.
Their employees and accountants need access to various software systems and data, but they can only access their share of the data. For example: accountants can view all of their clients' pay slips, but employees are only allowed access to their own pay slips, not those of their colleagues.
Our customer uses identity and access management to decide who can access which data, when and for what purposes.
02. THE QUESTION
Over the years, their system for identity and access management had become slow, outdated and was no longer able to cope with new ways of working—freelancers, for example. A change was needed, so our customer selected a new Microsoft technology and quickly began to implement it.
Halfway through the implementation process, things went awry. Budgets and timelines seemed to keep on growing. The company wasn't sure anymore why they had invested so much time and money in the new IAM system in the first place. People started to doubt. That's when they contacted Addestino and asked us to assess the situation.
03. THE PROCESS
While auditing, we learned that our customer thought the problem with their IAM system was 100% technological. But for a large part, the problem turned out to be their way of working. Our audit showed that the company would be able to partly solve their IAM problems by fixing internal issues.
We applied set-based design, a technique that identifies and simultaneously explores multiple options to solve a problem. The set which smartly combines technology, processes and human skills turned out to be most promising.
For example: someone resigns. They email their letter of resignation to someone in HR, who forwards it to an administrator. The administrator works with an assistant, though, who just happens to be on leave. So the email is automatically forwarded to someone else, who doesn't consider it a priority and leaves it sitting in their inbox for a while. By the time the secretary's back from leave, the email containing the letter of resignation is nowhere to be found. See the problem?
04. THE RESULT
When our customer switched to a brand new identity and access management system, the mantra was to try and solve everything at once through complex technology. Instead of a technological big bang, we presented them with a roadmap of mini bangs. Technological ones, supplemented by changes in their processes and way of working.
Thanks to our roadmap, our customer is currently (and for the next few years) implementing new functionalities. Step by step instead of all at once, and with success. This way, when the time is right, they'll be able to swiftly move on to automation. In other words: they're learning to walk before they run.
Addestino goes beyond short-term solutions. We're in it for the long haul.
Want to know more about this case?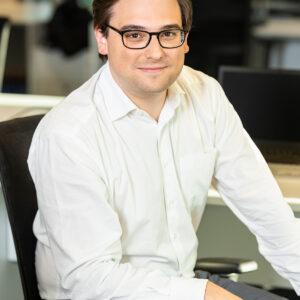 Michiel Vermeersch
Partner
Contact
We're proud to work for