Michiel's transition from PhD researcher to analyst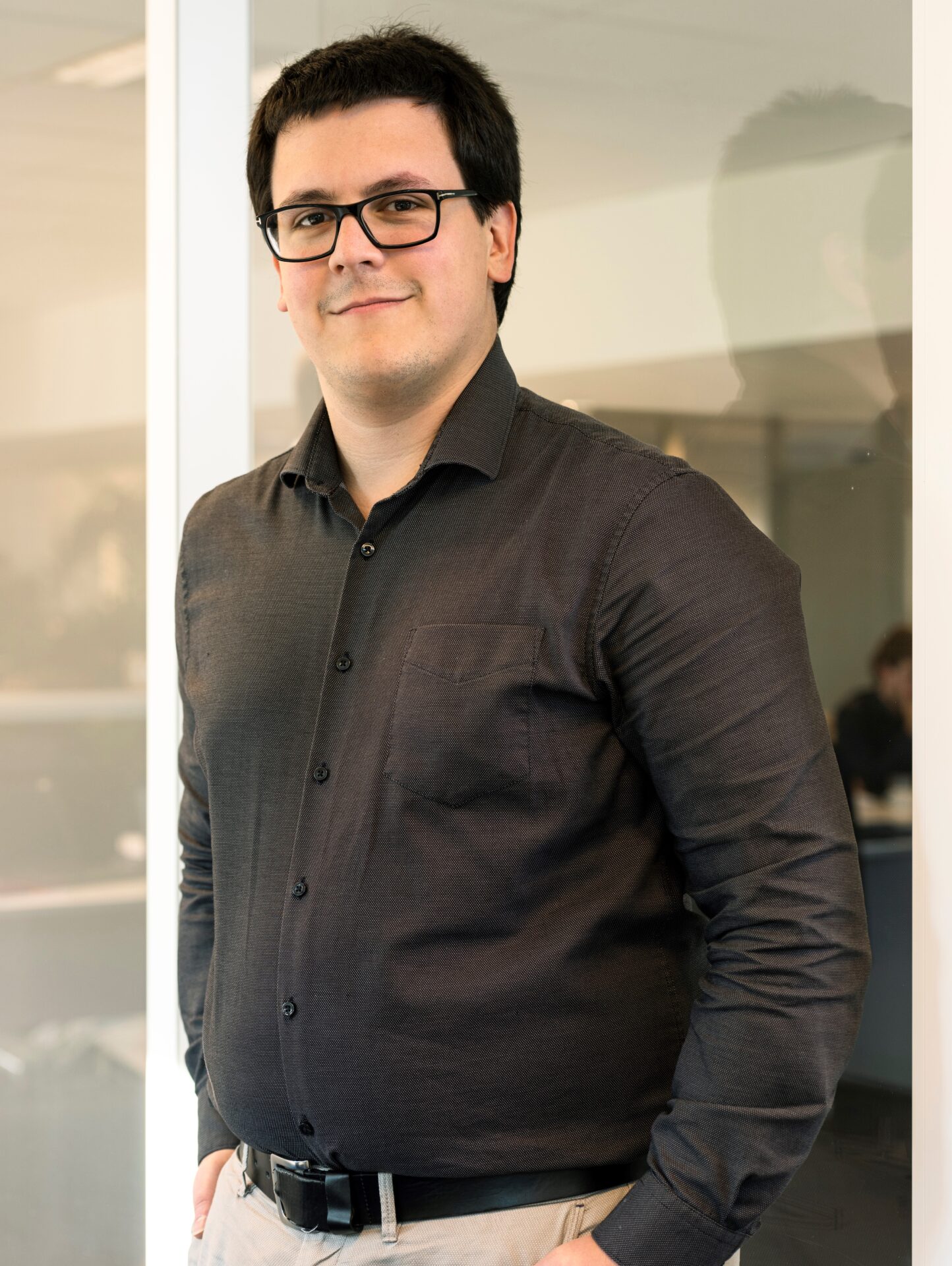 After a four-year stint as a physics researcher at Ghent University, Michiel left academia to put his analytical skills to use for the companies we work with. Why did he choose to venture out and what should PhD's consider when planning their next career move? Michiel shares his insights.
Academic aspirations
Michiel's passion for maths and physics paved the way for his initial academic career. "Throughout my studies, I specialised in applied physics," he explains. "This path led me to delve into physics modelling. The ability to both contribute and learn simultaneously was immensely satisfying. Naturally, my progression prompted me to pursue a PhD within the research field of computational electromagnetics. At the time, the notion of a job outside of academia never crossed my mind – I wasn't actively seeking employment elsewhere."
Pushing for positive change
Although Michiel looks back on his time at university with predominantly positive feelings, he sensed that his interests would eventually lead him beyond the confines of the campus. ""Even though I enjoyed the blend of conducting research and teaching students on the side, I couldn't see myself further pursuing a research career. I was eager to put my skills to use in a practical setting, as I tend to prioritise tangible goals. That's why I started to look elsewhere to find my ideal long-term career opportunity."
Swift recruitment process
LinkedIn-driven recruitment can be a blessing or a curse – luckily, in Michiel's scenario, it turned out to be a stroke of luck. "The message I got from Addestino's HR team stood out to me," he reveals. "As if they had read my mind,  they asked whether I'd be interested in channelling my analytical skills and applying them to real-world challenges. Before I knew it, I was deep into discussions with the leadership team about business scenarios and my possible role and cultural fit. Their interest extended beyond assessing what I'd be able to bring to the table, as they were also keen to understand where I saw myself headed on Addestino's internal career compass. This gave me the confidence that we'd make a good match."
Different surroundings
Michiel's start was marred by the 2020 pandemic lockdown. "Just a few weeks into my inaugural client assignment, we were all forced to transition to remote work," he recalls. "Thankfully, I could build on the foundation of our existing working relationship, alongside the help of the senior consultant working on the project with me. What left a lasting impression on me during my first year was how quickly I moved into designing IT roadmaps and leading workshops with client stakeholders. Quite the contrast from academia!" he adds.
"I found it fascinating to acquaint myself with different corporate structures and learn about nuances like typical office dynamics and different IT stacks. The prevailing go-getter mentality and business-centric approach were exactly what I had envisioned when I joined. Following my first client engagement, I began to devote part of my time to a more strategy-focused project. This gave me the chance to learn about new technologies while navigating tight delivery deadlines."
Career track pivots
Speaking about his career journey so far and his ambitions for the future, Michiel prefers to keep his options open. "I made a deliberate choice to explore the different career tracks within Addestino. I've embraced roles both as a strategy consultant and analyst and across the technical, business, and strategy pillars offered here. This flexibility empowers me to choose from a diverse array of projects. At the same time, I'm able to engage in on-site training on a range of topics – from business methodologies to emerging technologies. I've also rekindled my passion for teaching. Soon I'll have my second session coming up, where I'll be guiding the rest of the team through the intricacies of data architecture, a subject close to my heart."
"The ability to try out different tracks and decide my way forward on the go, is what sets Addestino apart for me."
"The most notable day-to-day difference between my PhD career and Addestino? Here, I tackle a diverse range of practical assignments and challenges. Simultaneously, I find myself guided along my personal career track. Sometimes a gentle nudge beyond your comfort zone is all it takes to grow. Moreover, the typical 'up or out' mentality often associated with traditional consulting firms is entirely absent here. I sense a vast support network, and, in turn, others count on me to chip in with advice to do with my area of expertise. This is something I genuinely relish, and it has led to me taking on a mentoring role to assist junior consultants – just as others helped me when I first began. It's an excellent way to leverage my teaching background from my academic past."
We're proud to work for